Satanic Prey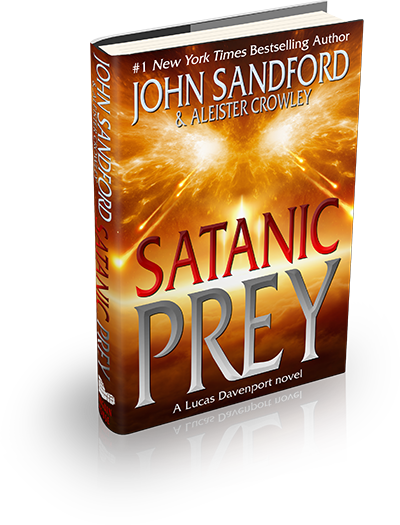 (Click for large version)
"His was the first crime. The first rebellion. The first fall from grace. Fallen or not, he had a grand role to play in the coming conflict. This... this was not it."
Jesus has returned, but it's not the Second Coming. At least, not yet. Something's gone awry in the Divine Plan, and none of the heavenly host know what what to do about it. But they know someone who does.
Lucas isn't especially religious — he considers himself a lapsed Catholic — but when Jesus Christ shows up on his door with a request, Lucas can't turn it down. Because it seems that before the End of Days can well and truly begin, there's one more crime to solve. One more murder to be avenged.
Because Satan has been killed, betrayed by one of the endless hosts of Hell, and without an Adversary, the Final Battle can't proceed. And so Lucas is tasked to descend into Hell, to find the being or beings responsible, and to take whatever actions necessary to set things right.
But Hell isn't known to be a nice place to visit. Some of the residents there know Lucas from when they were alive. Some of them were killed by him. And they're all waiting for another chance to drag him down...
April 1, 2018
Explaining the Joke Ruins the Joke
by Roswell Camp
I was surprised by this one. Not by what I did, mind you, but by the reaction. This was, far and away, the most popular of the April Fools' covers for 2018
[1]
. And here I was, afraid it was going to offend people.
The problem is that people can be
amazingly
touchy about religion. I regularly get hate mail from people who feel that some book or other has offended their religion, and thus offended them, on a deep and personal level
[2]
. It seems that religion, like politics
[3]
, is an arena where everyone's opinion is completely and utterly
correct
while simultaneously being at odds with everyone else's opinion
[4]
.
Seriously, people have quit John Sandford books entirely because of a throwaway line making fun of Bill Clinton
[5]
, or Bush Jr.
[6]
, or Trump
[7]
. People have quit because the author had a character say "Goddamn" in a book involving multiple murders and incredible violence
[8]
.
As I say somewhere else, if you get upset about people's
language
in a book that's primarily about murders, your priorities may be in the wrong order
[9]
.
But anyway, of the six books for this year,
this
one was the one people wanted to see. It's interesting enough, I suppose, maybe a more modern take on Dante's
Inferno
or something
[10]
. Maybe a touch of Neil Gaiman's
American Gods
in there as well
[11]
. I don't know. But whatever the reason, people liked it, and they weren't offended, and I was genuinely surprised
[12]
.
The cover... still bothers me. Not the background art, which is (again) a Shutterstock cover, but my simple text layout and design. It's meant to be reminiscent of any number of James Patterson covers, but I could never quite get the colors to look right, or for it to feel like a real thing. Design-wise, this is probably the weakest cover of the bunch
[13]
.
Nothing else to say about this one, really. It was popular, I don't know why, and that's it.
Footnotes