Martian Prey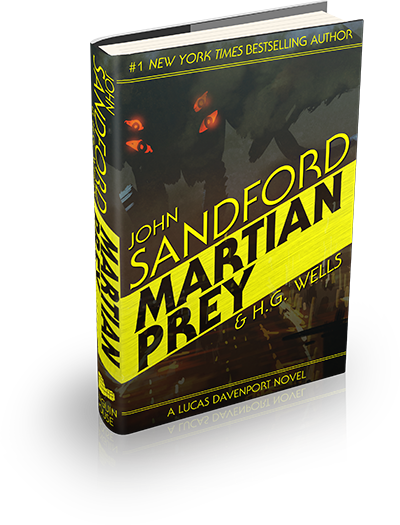 (Click for large version)
"For what it's worth, nobody really thinks they were from Mars. That was just a convenient stopping point. So they could prepare."
The war is over. The world's a mess. Cities are littered with the bodies of the dead, with debris from broken buildings, with alien death machines that nobody understands.
Lucas Davenport used to be a U.S. Marshal, but now he's just a lawman trying to give aid where he can, trying to help people. The United States still exists... but it's hurt, and it's going to take a long time to heal. Lucas just wants to do what he's able, and to get back to his family.
But where some people see chaos and misery, there are those who see an opportunity, a chance to take advantage of the tragedy to help themselves. Among the survivors, there are scavengers and opportunists. Lucas's badge may not have much meaning any more, but he can't just let people suffer, or let crimes go unpunished.
Worse, there are rumors going around that the war isn't over. That the aliens are still out there, preparing for a second wave. If true, what hope is there for anyone?
And after all that, if he finally does get home... what will he find? And will he be ready for it?
April 1, 2018
Explaining the Joke Ruins the Joke
by Roswell Camp
This is another of the not-very-funny April Fools' covers, for which I apologize. It's got all of the necessary ingredients — Lucas facing the aftermath of an Martian invasion is all kinds of wrong — but I didn't work on it hard enough. Or maybe I tried too hard, but in the wrong direction. It's difficult to say which was the problem
[1]
.
The way it is now, with Lucas doing... something — I never specify exactly what — in the aftermath of the
War of the Worlds
-style invasion is okay, but it's not especially amusing
[2]
. It's not funny. It's just sort of... there. That makes it boring. That makes it not very good
[3]
.
I could have taken it in a completely different direction, and actually had Lucas fight the aliens. Or I could have gone for an off-the-wall zany, with Lucas "Flash" Davenport teaming up with Cadet Nancy to defeat the evil Prince Marcada of Mars and Dr. Lambart's killer robots
[4]
. Something that I could do that includes the word "Behold!" on the front cover in Jack Kirby style. That would have been better.
But no, I just sort of... didn't think much about this one. I was lazy, and it shows
[15]
. At least, about the synopsis.
The
design
is maybe my favorite for the year, because it's so utterly different from all the other covers I've done — and yet, it's instantly accessable. The cover's divided between the giant Martian war machine robot on the top and the imperiled city below. So that's nice. The design implies speed, or motion, and the font is one of those sort of high-tech "feel" typefaces, so everything's all futuristic. All of that works
[6]
.
And the colors are simple. Here's another aside: one of the big things I learned this year was about simplicity of color, which is probably a
very
early lesson for artists. While most of the other covers have a simplicity of design, it's not something I consciously did with the colors
until
I started having problems with this year's crop. Basically, everything except
Elder Prey
was a mess of colors that weren't working.
But
Elder Prey
has a kind of green overall "theme" going for it, and I figured I should try that on the others. So I went through and simplified all the other color schemes, and they all worked. Except for
Satanic Prey
, which still sort of doesn't
[8]
.
This cover gets yellow and literally nothing else for the design elements. The author, co-author, header and footer, publisher, and publisher logo are all in yellow, and the title is in negative space on a yellow background
[7]
. Literally no other colors are used. Aside from
Generic Prey
, I've never done anything so color-consistent that worked as well.
That's just my opinion, but... well, I'm looking back over the older covers right now and a lot of them are sort of a mess that way. Again,
Sacred Prey
and
Lettuce Prey
stand out as the worst of the worst, but that's just what they
are
. So... yeah. Sorry about those. Again.
Footnotes