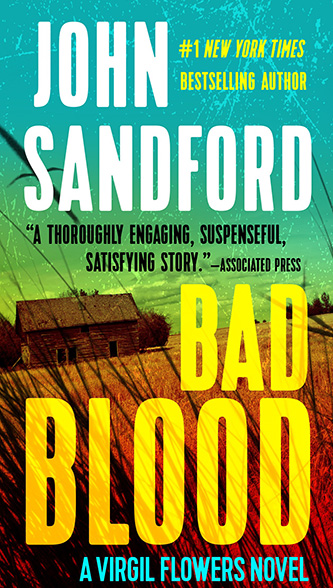 And now Virgil's got a real problem on his hands.
One Sunday in late fall in southern Minnesota, a farmer brings a load of soybeans to a local grain elevator — and a young man hits him on the head with a t-ball bat, drops him into the grain bin, waits until he's sure he's dead (if the blow didn't kill him, the smothering grain surely would), and then calls the sheriff to report the "accident."
Suspicious, the sheriff quickly breaks the kid down... and the next day the boy's found hanging in his cell. Remorse? The sheriff's not so sure, and in fact she's beginning to wonder if one of her own men might not be responsible. She has no choice but to bring in outside help, and investigator Virgil Flowers of the Minnesota Bureau of Criminal Apprehension is her man (in more ways than one — the sheriff's awfully attractive, he notices).
As Virgil investigates, though, what at first seems fairly simple quickly becomes very complicated as he begins to uncover a multi-generation, multi-family conspiracy — a series of crimes of such monstrosity that, though he's seen an awful lot in his life, even Virgil has difficulty in comprehending it... and in figuring out what to do next.
Filled with the brilliant plotting and compulsively readable prose that are John Sandford's hallmarks, Bad Blood is another masterpiece by one of our very best suspense writers.
Ordering Information
Hardcover
Paperback
Audiobook
E-Book